Nippombashi Street Festa Cosplay Event 2017
One of Japan's largest Cosplay events
The Nippombashi Street Festa is one of the biggest cosplay events in Japan. It's an excellent opportunity for portrait and street photography.
I decided to join the Kansai Photographers Meetup Group for a portrait and street photography mission at Nippombashi Street Festa 2017 (hereinafter abbreviated to "Street Festa"). Street Festa is held in Den Den Town, Osaka's center for "otaku" interests such as electronics, anime, manga, and collectibles.
http://nippombashi.jp/festa/2017/
Yu-Gi-Oh! Dark Magician and Dark Magician Girl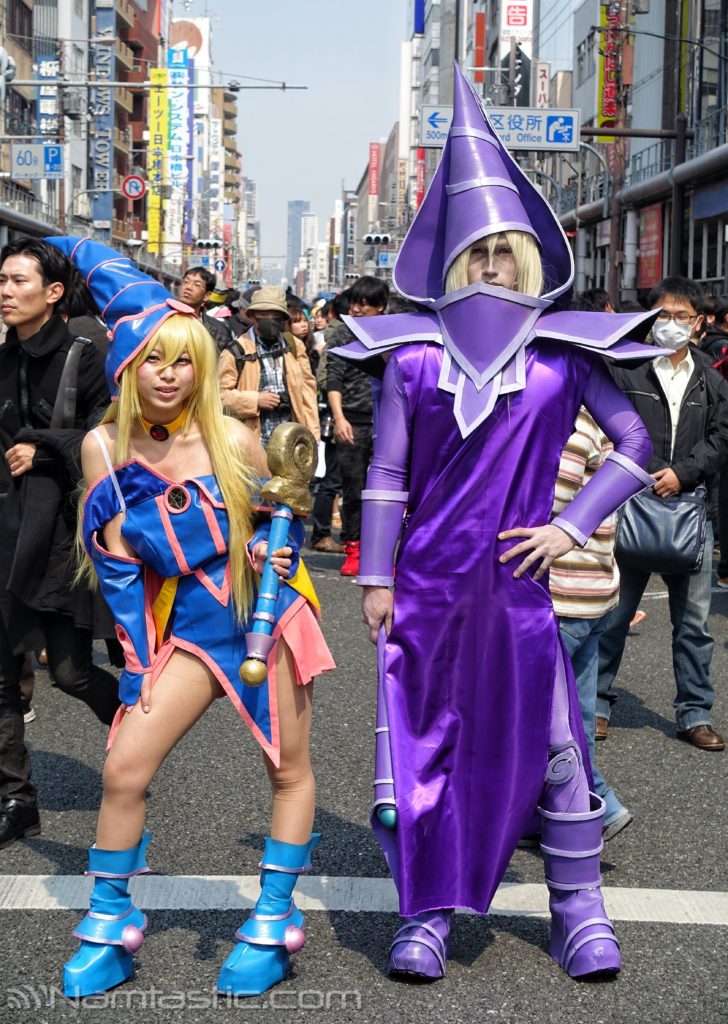 This couple had awesome matching costumes and their posing was great. I like this shot I was able to get of them on the main street in Den Den Town. It would have been better with a portrait lens and more subject isolation. It think it would be improved if I could remove the focus people close to either side of them as well.
The Real Stars of the Show: Otaku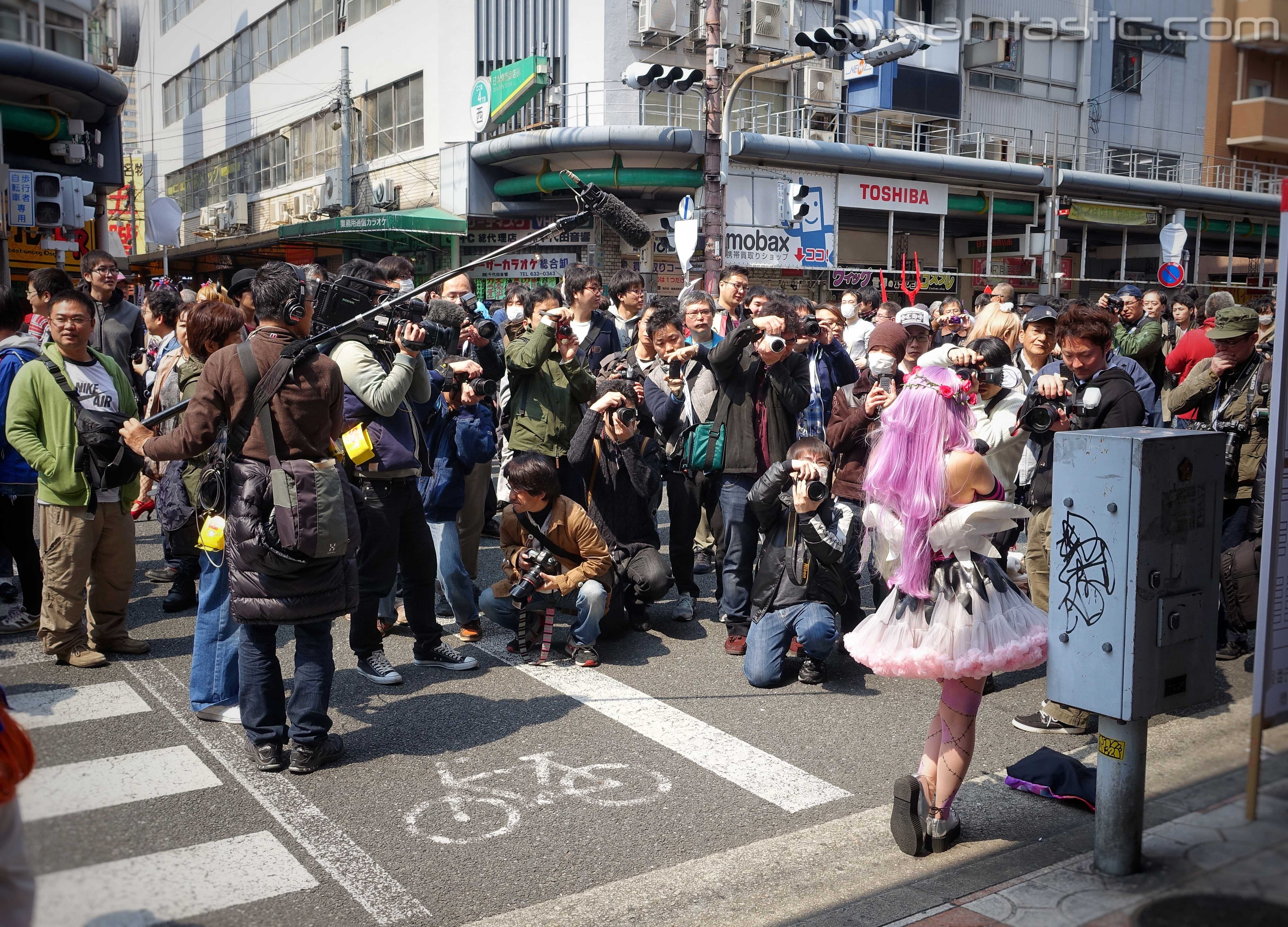 The majority of the photos from Street Festa are cosplayers, in particular young girls who gather large followings on social media. However, while I was at Street Festa, it was evident that the real stars of the show where all the "Otaku", mostly middle-aged men, who gathered in large groups taking photos of the popular girls. I think this shot is a good example of the most common scene at Street Festa.
The Red Fox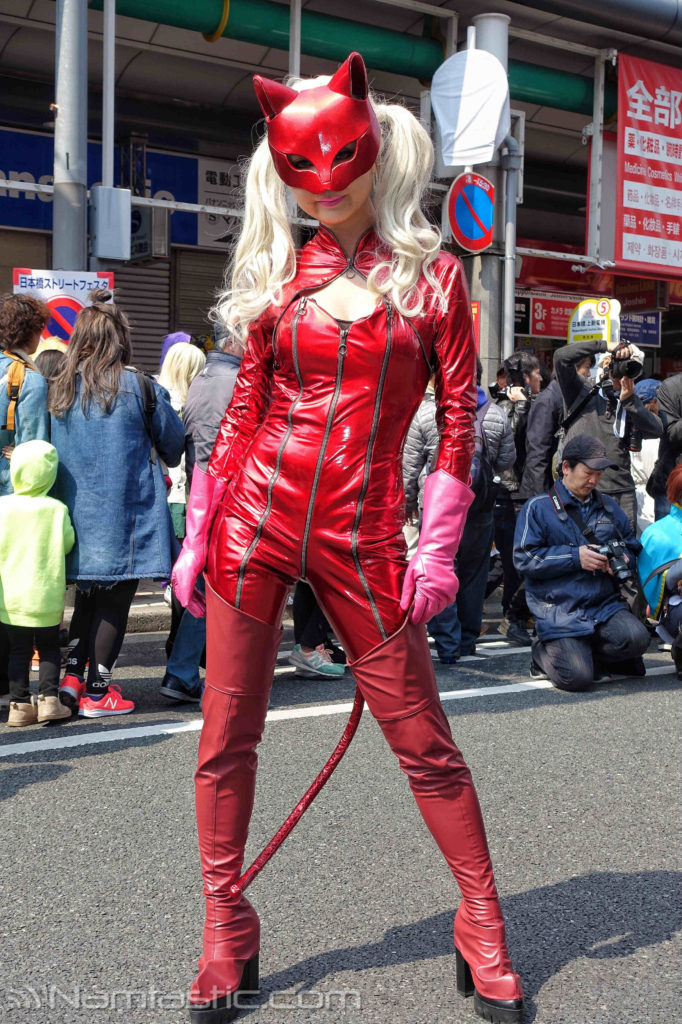 It was early in the morning and I saw this girl dressed in a catwoman-like outfit. She was busy checking her phone, but I asked permission waving my Photographer's back-stage pass. She politely complied and posed. The shot would have been nicer if I stepped back and made some more space below her feet. Otherwise my little RX100 did a good job and the sun was behind me to the left making it a clear, well illuminated shot. With a faster lens and a larger sensor I could have achieved more subject isolation and "bokeh" too.
Three Pink-Haired Girls

These three girls with matching pink hair were a popular hit at Street Festa. I took this shot raising my RX100 high over the crowd and cropped it down when I edited with Snapseed.
The Rules of Street Festa
One thing that concerned me before visiting Street Festa was the rules for participating in the event. The webpage outlines the rules of participation comprehensively in Japanese for cosplayers and photographers. However, there is no official English description. The participation guidelines were hard to find even in Japanese on the official website. They are outlined in the link below, but even now I still don't know how to get to that link from the webpage.
http://nippombashi.jp/festa/2017/contents01.html#cos2
There are two YouTube videos posted on the official webpage at the link above. This video below outlines the rules for participants with cameras.
Basically, if you want to take photos at the event you are required to purchase a wristband for 2000yen sold at selected stores. Then you are required to show your wristband clearly and take photos of cosplayers within the designated areas on the map. When taking photos of cosplayers, you are required to wait in line patiently, then ask their permission first. If you want to post their photo on the internet you are required to ask for their permission again.
These rules are difficult to enforce because there are no physical boundaries for the area and it is all in a public space. There are Street Festa Committee members patrolling around who are responsible for enforcing the rules, but they are ridiculously outnumbered by the huge crowds at Street Festa and rule enforcement is almost impossible. The street is packed full of people shoulder to shoulder and there are so many people taking photos it's almost impossible to tell whether you're wearing a wristband or not, and most cosplayers have huge crowds around them taking photos without asking permission.
If you plan to spend the day there, get some great shots of cosplayers and post them to the internet through a blog or social media, I think it's a good idea to support Street Festa and follow the rules by purchasing a wristband and communicating with the cosplayers whenever possible. However, if you're just passing through I don't think anyone will notice if you take a couple of photos in the crowd enjoying the overall festival atmosphere.
Kansai Photographers Meetup
For the Kansai Photographers Meetup group, we planned to take photos all day, so we made sure we followed the rules buying our wristbands and always getting permission from cosplayers to take their photos and post them on the internet.
If you're interested in a Kansai Photographers Meetup, the group can be found here:
https://www.meetup.com/kansaiphotographers/