Brooklyn Roasting Company – Namba
Brooklyn comes to Minami
On a visit to Brooklyn Roasting Company in Kitahama, I noticed a blackboard at the front of the store advertising a new shop, Brooklyn Roasting Company – Namba. I thought it would be exciting to check out a new branch, so I set out during the Golden Week holiday. The only information I could find about the new store was posted on their Facebook page. The address wasn't precise, but it mentioned the Ekikan building, which according to Google Maps was closest to subway Daikokucho station.

How to get there
Getting out at Daikokucho station, I walked in the direction of the the Ekikan building, which is actually a stretch of commercial real estate underneath the Nankai railroad tracks. Brooklyn Roasting Company Namba is actually at the north end of the Ekikan property which makes it conveniently closer to Namba Parks and Namba Station. It's still a bit of a walk from there, but worth it if you're a fan of Brooklyn Roasting Company coffee.

The Biggest Brooklyn in Kansai with Token Pizza
Brooklyn Roasting Company Namba is by far the largest Brooklyn Roasting shop in Kansai. It is very long and spacious. It also includes Token Pizza which is a New York style pizza restaurant/bar.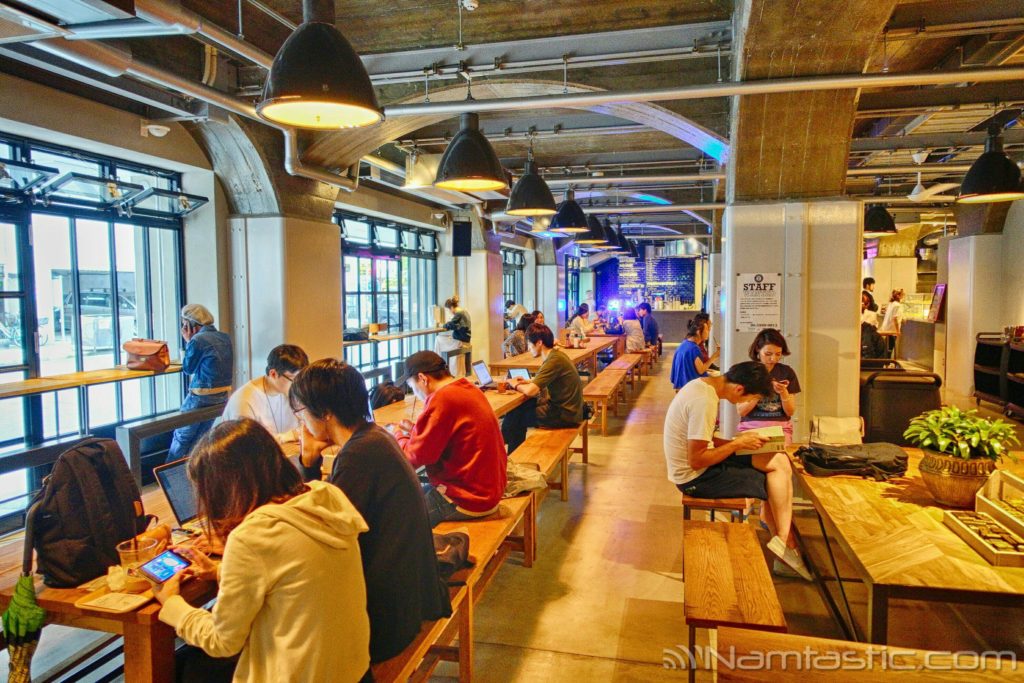 Where's Today's Coffee?
On my first visit I didn't see the characteristic "Today's Coffee" board present at Kitahama. Expo City is the same, I needed to ask them what "Today's Coffee" was. For those who don't mind what type of coffee you get it's probably fine. I prefer a selection though. At Kitahama there are two choices for today's coffee and as a result I often drink two cups, one of each.

In summary, if you're interested in good single origin coffee, and a hip pizza restaurant in the Namba area, check out Brooklyn Roasting Company Namba.

Pros:
Very long and spacious

Connected with Token Pizza, so you can enjoy food and alcohol making it a better night spot
Cons:
Because Token Pizza is a bar, I thought the music was quite loud here. Upon another trip to Brooklyn Roasting Company in Kitahama I realised that the music is on at a considerable volume there too, but I thought Namba was the loudest.

If you liked this review, feel free to share it. If you would like to read more reviews like this, keep Namtastic bookmarked, or you can follow me, Steve, on any or all of my social media accounts below.
Enjoy your coffee, enjoy your gourmet.
Steve